There's no question that the Caribbean is a prime location for a luxury holiday spent by the ocean, with turquoise seas and sprawling sandy bays galore. However, with so many islands and locations to choose from, narrowing down the different options can seem like a bit of a task. From the exclusive coves of St Barts to the groove-infused rhythms of Jamaica to the rainforest charm of St Lucia, those seeking a holiday in this part of the world find themselves presented with a diversity of appealing options.
With a selection of fine quality beachfront Caribbean villas that provide the ultimate in tropical peace and seclusion, Rental Escapes is pleased to help you discover the finest vacation for you. Taking into account your individual taste and requirements, we will use our destination-specific knowledge to create a bespoke vacation experience that is both relaxing and memorable. We've taken a look at our top 10 beachfront Caribbean villas to help you discover the many opportunities on offer.
Natural splendor in Sugarbeach, St Lucia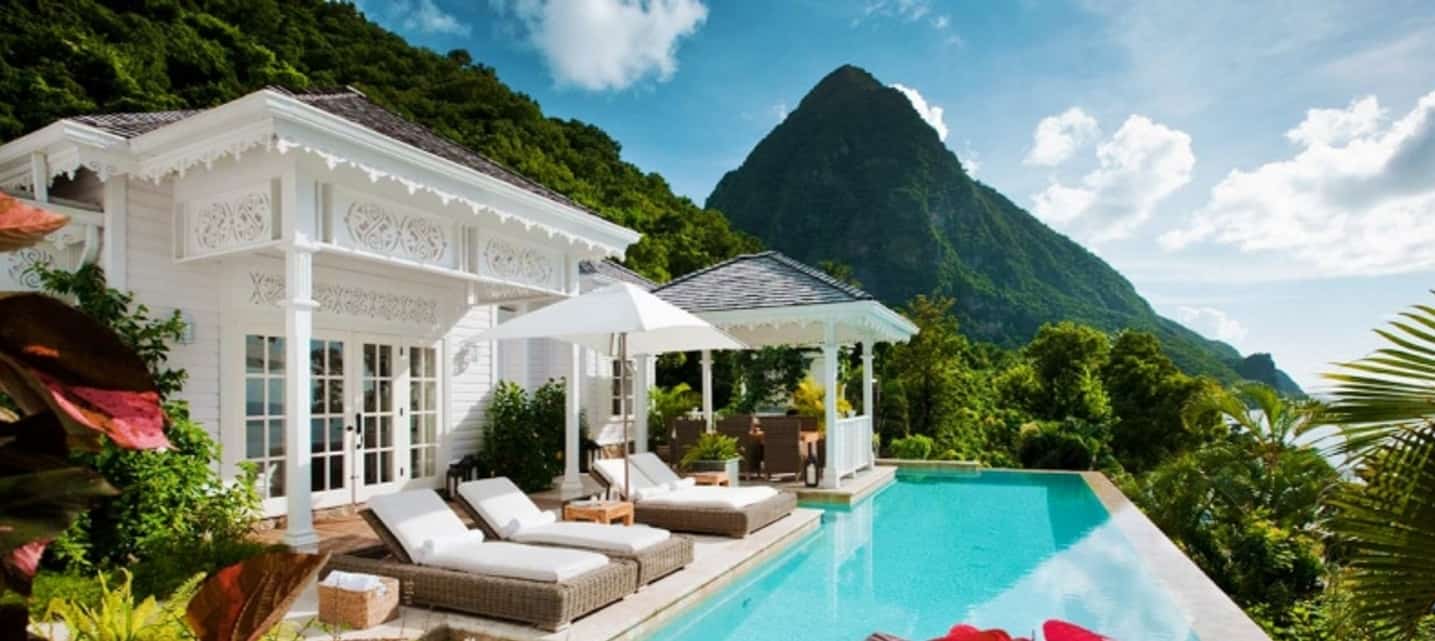 Combining unmatched seclusion and beautiful surrounding landscapes, this villa in the Soufriere area of St Lucia offers a prime location on the idyllic Sugar Beach. Nestled between the lush, breathtaking outlines of St Lucia's UNESCO-protected Pitons and the glittering sea views of the bay of Anse des Pitons, this four-bedroom residence combines luxury living with untouched scenery. With private sun terraces, gardens and large infinity edge pools, the villa is fully equipped for the ultimate retreat.
Greensleeves, Gibbes Beach, Barbados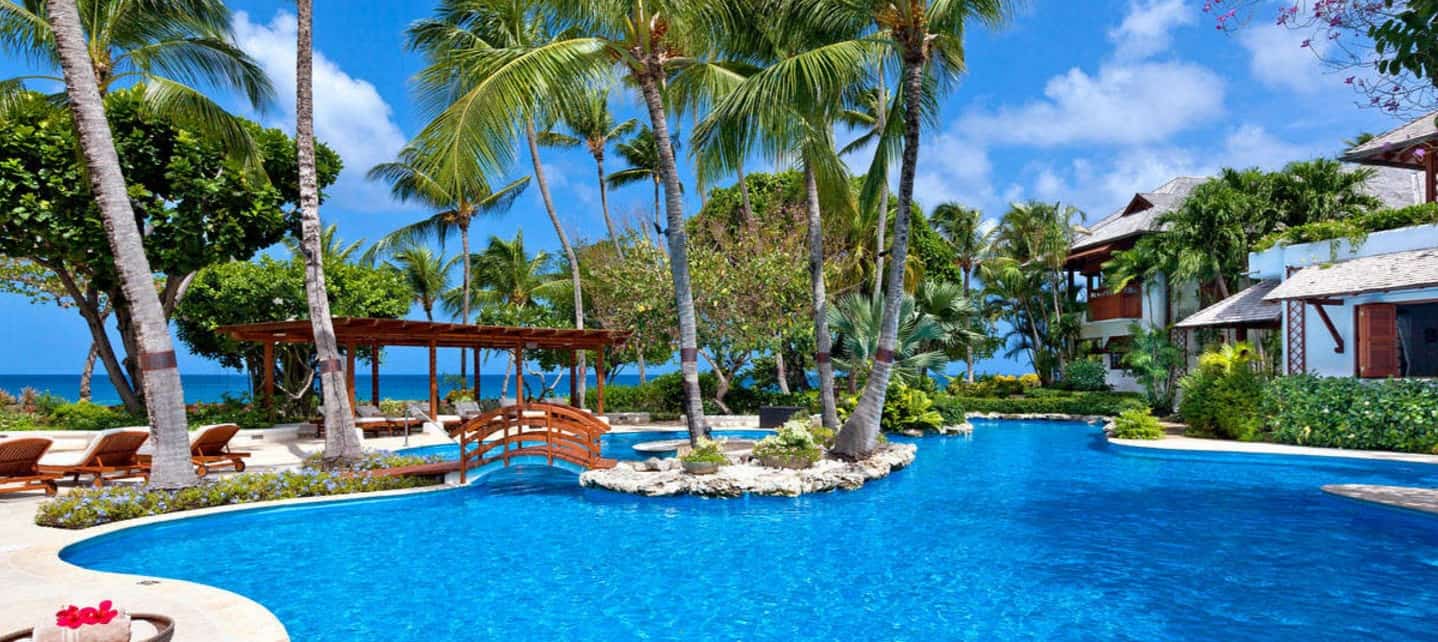 Situated on 11 acres of soft sands and the tranquil turquoise waters of Gibbes Beach, this grand 20-person villa provides the ultimate haven for your getaway. With an open-plan design weaving between the lush green gardens, en suite bedrooms, free-form pool and in-house cinema, guests at this residence are left with no desire unfulfilled. The attentive staff ensure that all comforts are met, while the private chef prepares sumptuous dishes to be enjoyed in the luxury dining area.
A piece of Jamaica's sun-infused rhythms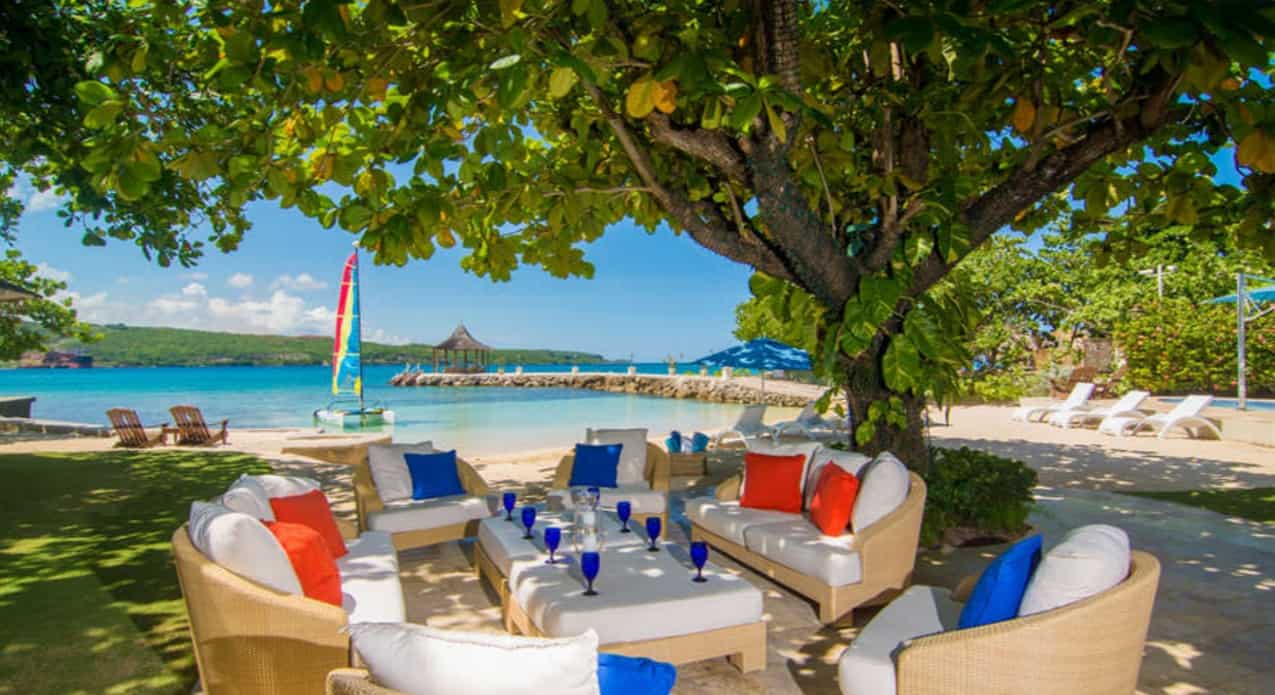 Enjoy your private slice of Jamaica's sun-infused rhythms with this exquisite staffed villa located on beautiful Discovery Bay, Jamaica. With direct access to a peaceful bay, Sundown villa's interior is tastefully decorated with rich fabrics on dark wicker and mahogany. Delicious home-cooked meals are served inside or al-fresco, and guests can delight in the complimentary water sports equipment provided by the villa. Perhaps thought of as the 'quintessential' Caribbean destination, Jamaica offers an enticing combination of natural beauty and a rich, authentic sense of cultural heritage.
The breathtaking panorama of Il Faro, St Barts

Immerse yourself in the natural beauty of the island of St Barts by staying in Villa Il Faro in Anse des Lezards. With a direct panorama of the raw, untouched bay, this fine 12-person residence is fully equipped with six deluxe en-suite bedrooms all dressed in clean white tones, an air-conditioned massage room, state-of-the-art gym and lush green gardens.
South Seas Grande Rondoval Butler Suite, Grenada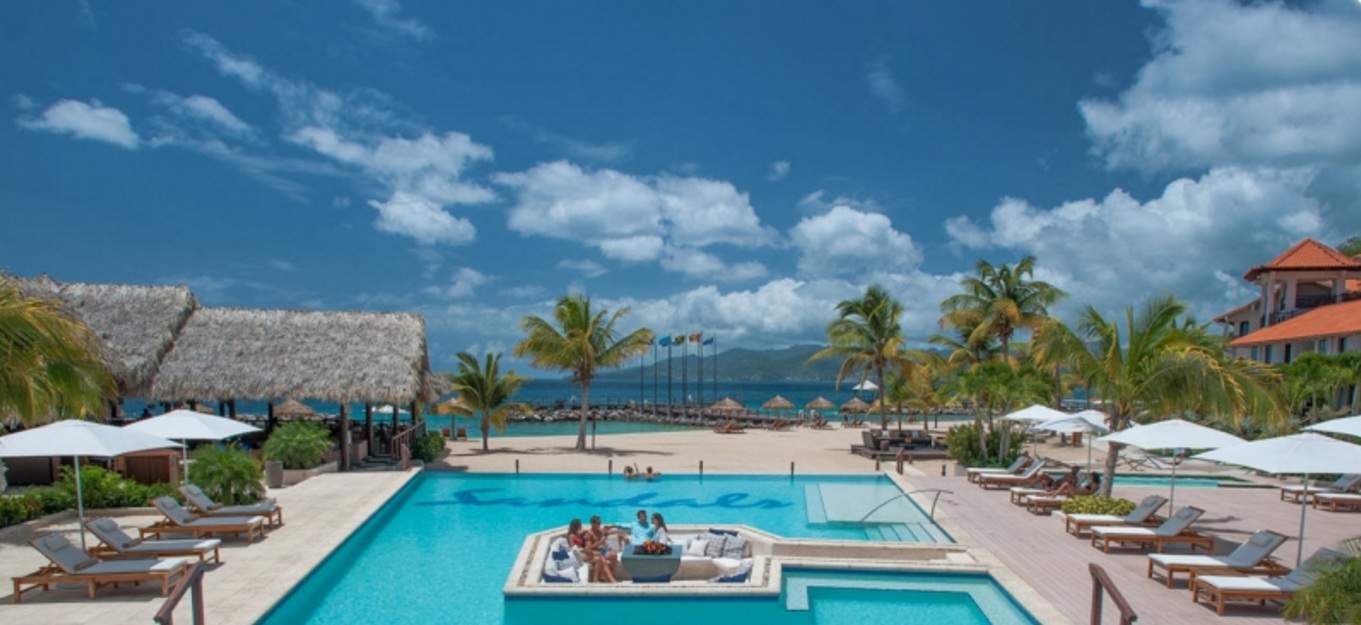 Offering unparalleled proximity to the famous Devils Bay, this two-person suite provides the finest of tranquil hideaways among the tropical greenery of St. George. Enjoy the best in indulgent living in this retreat, with a tasteful master bedroom, Roman soaking bathtubs, alfresco dining, a private pool and beautiful natural surroundings working together to provide the ultimate Caribbean experience.
Crystal Lagoon Honeymoon Penthouse, Jamaica
For a beachfront getaway in the Caribbean with the highest levels of romance, this suite in Negril ticks all of the boxes. Sitting on the pure white sands of the crystal lagoon, the luxurious suite is fitted with custom mahogany furnishings, a whirlpool tub, walk-in shower, and a large balcony overlooking the pool area and the ocean. The Sundowner building in which the suite is located provides a butler service, accommodating all of your needs.
Witenblauw Estate, Saint Martin

One of the finest examples among its peers, allow Witenblauw Estate to envelop you in its splendor as you cast your cares to the Caribbean breeze. Sitting on the shimmering bay of Pelican Key, this 12-person residence offers six deluxe en-suite bedrooms, a pool overlooking the sprawling ocean, lush gardens, and sublime sunsets. Exceeding every expectation, this villa is sure to impress.
Key West Butler Villa, Turks & Caicos

Fully fitted with every luxury convenience, this villa is situated directly on the bay for the ultimate beachfront retreat to the Caribbean. Sleeping eight people, the residence offers four beautiful en-suite bedrooms, a state of the art kitchen, a fully furnished living room, an opulent bathroom with an oversized jetted soak tub, and a private swimming pool. A patio on the third floor overlooking the beach and completes the experience, allowing you to while away your evenings in the company of sprawling nature.
Bluemoon Villa, Bahamas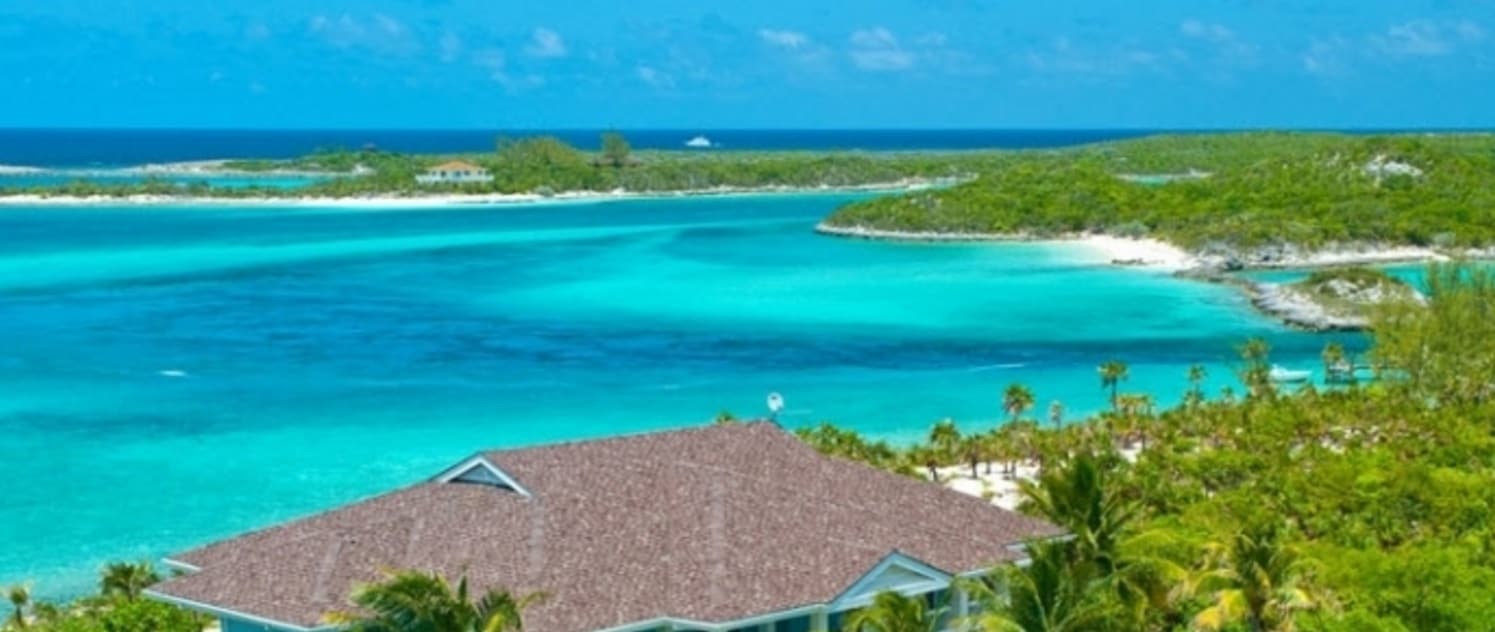 Perched just atop the turquoise seas of North Beach, Bluemoon Villa transports you to a zone of total peace and tranquility. Boasting striking views over the bay from the open-plan kitchen and living area, this residence offers a premium vacation lifestyle with al-fresco dining on the covered veranda, sunbathing on the spacious patio and deluxe en-suite bedrooms throughout. This villa offers a sense of immersion thanks to the ocean's natural habitat, creating a state of true relaxation.
Villa Pandora, Dominican Republic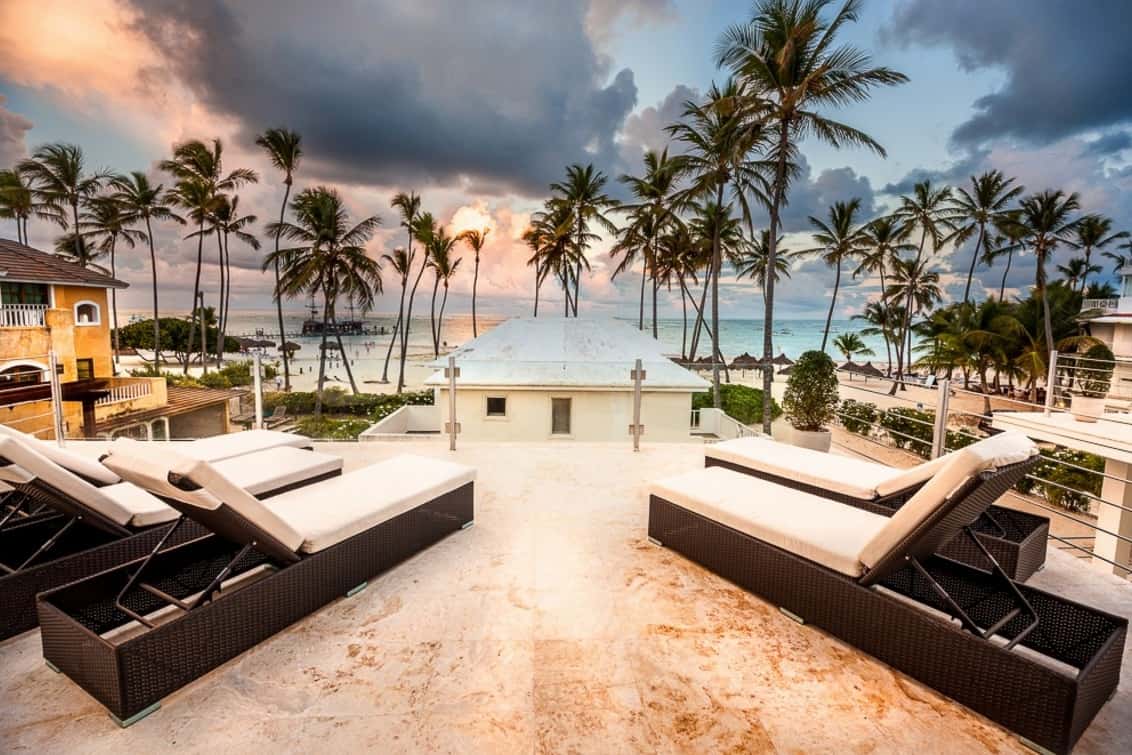 Perfect for a larger getaway with friends or family, this 16-person luxury Caribbean beachfront home offers a true taste of tropical living. Overlooking the sublime Bavaro Beach and the Caribbean Sea, this elegant villa's huge terraces provide the perfect setting for al-fresco dining during the velvety evening hours. With a full-time live-in maid, villa hostess and a full-time private gourmet chef, this villa rental delivers a vacation experience that is tailored to fulfill every comfort.