Whether you have the bank roll to actually rent one of these beauties or you can barely afford a handkerchief to wipe down your drool, everyone loves beautiful, luxury homes. Here are 5 of the most expensive villas in the world, the cheapest of which starts at $16,500/night.:
Ski Dream Home can only be descried as the ultimate ski chalet….on steroids. Custom-made, this bad boy reflects the owner's fun-loving spirit – we're talking ski-in bar,  custom DJ booth, chill room, heated pool with grotto, massive hot tub, pool table and aquarium in the cozy living room, Full Swing Golf Simulator, 14-seat theater, and some of the best views in all of Deer Crest. Personally, I'd "forget" my gear at home, claim I'm not "comfortable" renting equipment, and enjoy the après ski all day, every day.
If The Godfather were filmed today, Tangeri is where Michael Corleone would stay during his sojourn in Sicily. This restored farmhouse juxtaposes a beautiful, modern design with a collection of antiques inside and views of the untouched countryside outside. A lit pool and tennis court provide ample opportunity for leisure, though the real star here is the amazing landscaping and unbelievable location.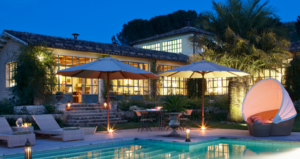 What can I say? The dolce vita can get expensive. Not only does this villa have amazing ocean views, it also has a garden with over 700 species of plant and enough historical artifacts, like sculptures, urns and even sarcophagi, to fill a museum, including a fragment dating back to 600 BC. Inside, you can find more antiques and artwork, including lots of Renaissance pieces, as well as some truly spectacular bathrooms (really). Topped with a rooftop terrace that gives guests yet another chance to admire the amazing views of the Bay of Naples and the result is a villa that comes together to form its own work of art.
Punta Mita's grown to become Mexico's premier luxury detonation, so it's no surprise that Estate Aguila holds its own in terms of most expensive villas in the world. Not only does it have one of the best locations on one of Mexico's best beaches, but it also includes a staff of 6, including an amazing chef, all trained at the neighboring Four Seasons (whose amenities guests can also take advantage of). Also, it has really comfy loungers, day beds, and hammocks. Forget being a beach bum – this villa will turn you into a genuine hermit crab (assuming you actually move from one resting spot to another; if you don't, beached whale may be a more appropriate anthropomorphization).
As one of the best villas in one of the best resorts on one of the best islands in the world, it's no surprise that this Amanyara villa starts at over $20,000/night in low season. Aside from having direct access to a private, beautiful beach, it also has an infinity pool made from volcanic rock from Java, a tennis court, a game room, a full gym, gorgeous bedrooms, and beautiful baths, both indoors and out (the latter's not a cutesy reference to the ocean – there's an actual outdoor bath with an adjacent day bed). No wonder it's more expensive than the neighboring 11-bedroom option and, of course, one of the most expensive villas in the world.
Drool or No Drool?
Got a favorite? They say articulating your dreams gives you a sense of satisfaction similar to actually achieving said dream, so go ahead and satisfy yourself by letting us know which of these 5 most expensive villas you'd spend your actual, or theoretical, money on first.