Spain has long been a top travel destination for everyone from young backpackers, to honeymooners, to families. It's an attractive area because of the rich culture and vibrant energy. The beaches, food, nightlife, and timeless atmosphere keep visitors coming by the masses.
In terms of luxury villa rentals, Spain offers a whole new spin on this type of vacation. Spanish villas have a classical style that is rarely matched in other regions. Many of these villas have private pools that also have a unique look to them. If you're planning your dream vacation, here are 5 luxury villas in Spain with private pools.
The Cal Stellata villa in Mallorca screams privacy, tranquility, and rejuvenating vacation vibes. The villa is located on a 12000 m property and surrounded by gorgeous Spanish countryside. Your very own private swimming pool is the star of the show – enjoy cooling off in the fresh, clear waters and lounging in designer furniture. Barbeque a delicious dinner and eat poolside while the sun sets beyond the mountains. There's no shortage of space in this incredible villa, so bring the whole family and make memories that will last a lifetime.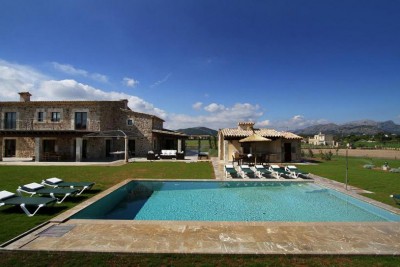 A jaw dropping experience is in store for the lucky visitors of Cal Sonnera. This villa is truly a gem of the Mallorca area. The huge estate sits right on the Mediterranean, giving you views of the sea as you swim in your large, crystal clear pool. Your pool extends to a gorgeous outdoor terrace complete with dining and lounge areas. For when you're ready to head inside, the villa interior will surely not disappoint. With a total of six suites available in the villa and guest house, Cal Sonnera is a great spot for you and some friends to have an unforgettable Spain getaway.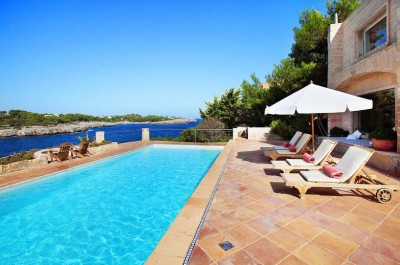 If you're looking for the ultimate private pool experience, then Casa Llamada is the villa for you. This gorgeous property is located in Altea, Costa Blanca and offers rooftop views of the sea and surrounding mountain landscape. The villa offers nothing but authentic Spanish luxury, and can comfortably sleep a group of 8 people. The private pool features an attached hot tub and is beautifully lit up in the evenings. During the days you can take trips to old town Altea and visit the numerous shops and restaurants.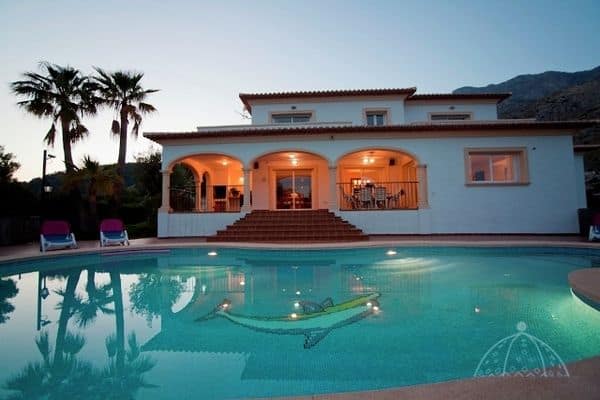 You'll find the dreamy Finca Can Planetas villa on top of a quiet hill in Ibiza. If you're looking for the rustic style synonymous with Spanish culture, then look no further. The large villa has been totally restored and is filled with vibrant décor and Spanish accents. Enjoy breathtaking 360 views of Santa Eulalia and San Carlos. The private pool sits right on the edge of the hill, peeking over to the surrounding landscape. An outdoor dining area, hammock, and sprawling gardens are just a few other details worth mentioning. Yes, it's that great!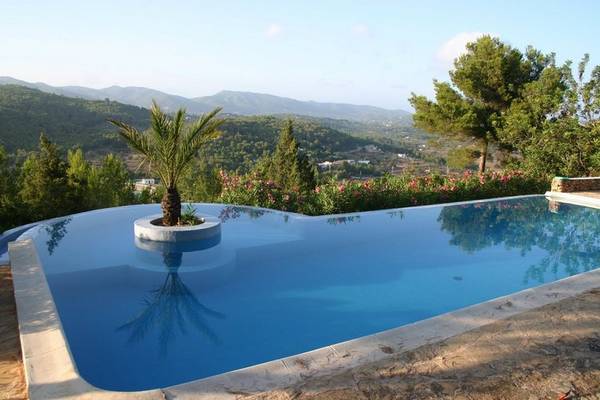 It's all about location at the stunning Can Roura villa. This property is submerged in the Majorca countryside and only 1 km from the charming town of Mancor. You can easily access the beaches of Portochristo and the Tramuntana mountains which provide an unlimited amount of recreation and adventure! The villa itself is irresistibly charming and features a classic Spanish color palette. When you're not exploring the incredible surroundings, you'll want to spend your time lounging by the large private pool. Enjoy your meals outdoors in the tile dining area, read a book poolside, and allow yourself to completely relax in this special luxury villa.