Gastronomy
0
Dining Out: The Best St. Martin Restaurants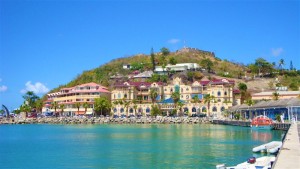 St. Martin undoubtedly has some of the most beautiful island scenery in the Caribbean. What some of us may not
know is that it also has some of the best cuisine around. Whether you're on the Dutch or French side of the island, there's an incredible roster of over 500 restaurants and bars to try. Here are our picks for St. Martin restaurants that shouldn't be missed.
La Belle Epoque – St. Martin, French Side

Located at the Marigot marina is La Belle Epoque, a local restaurant with beautiful views of the ocean. Locals and tourists alike love coming here to watch the boats, enjoy a drink, and eat some deliciously eclectic French cuisine.
Hidden Forest Café – St. Martin, French Side
Head over Loterie Farms to check out this rustic restaurant. The Hidden Forest Café features safari style dining areas and farm fresh food. Enjoy a great cocktail and local ingredients in a totally unique atmosphere.
Enoch's Place – St. Martin, French Side
Located in the restaurant heavy Grand Case, Enoch's Place is a local classic. This is where you can enjoy some authentic Caribbean flavors like crispy plantains and conch stew. Grand Case is a great town to walk around in after a delicious meal.
Bamboo – St. Maarten, Dutch Side
Bamboo is a trendy addition to the Dutch side of the island serving up creative Asian fare. The stylish décor and delicious sushi rolls keep customers coming back. Don't miss out on the happy hour from 5-7 for special cocktail and sushi prices.
Ocean Lounge – St. Maarten, Dutch Side
This is a great place to enjoy a delicious meal on Philipsburg boardwalk. Fresh seafood and steaks are the specialty at Ocean Lounge, along with martinis and a bar snack menu.
L'Escargot – St. Maarten, Dutch Side
A 150 year old gingerbread style house is home to L'Escargot restaurant. The classic veranda and colorful murals decorate the house and create a warm atmosphere perfect for dining. Enjoy a variety of refined French cuisine and a cabaret show.
Ready to plan your luxury getaway to St. Martin? Click here to browse the Rental Escapes collection of amazing private villas and estates.