If you're looking for the ultimate luxurious, private vacation then Blue Point in Barbados is the perfect destination for you. A visually stunning home situated South of the famous Gibbs beach on the West coast of Barbados is one of the island's most private villa rentals. This beautiful 4 bedroom beachfront villa has the amenities and style to make any guest feel totally pampered.
The home is perfectly positioned for sweeping views of the ocean and evening sunsets. An open plan living area leads to a spacious wraparound terrace where you can admire scenic views and the lush gardens.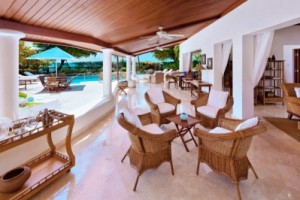 Interior spaces are decorated with an oriental influence that matches the colors of the surrounding tropical landscape. Three of the bedrooms are located on the ground floor. Whereas, the master bedroom located on the top floor, opens out onto a large balcony overlooking the pool and the Caribbean Sea. The home is perfect for family getaways or small groups looking for privacy and relaxed luxury.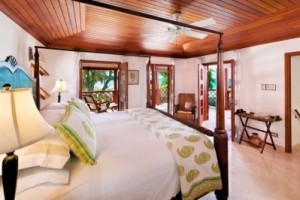 The home features a swimming pool on the fully enclosed property where guests can lounge and enjoy the sun. But the main attraction is the proximity to the beach. Situated a few steps away from the home, guests can enjoy the pristine waters of the Caribbean ocean. Snorkeling and paddle boarding equipment is included for memorable beach moments.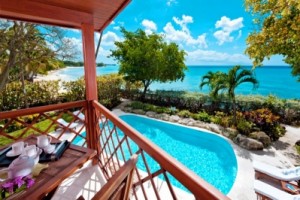 A stay at this pristine villa is made even better with 5-star service. All of the guests needs will be met by the on-site staff, including a private chef and butler.
Anyone looking for an unforgettable beachfront getaway draped in luxury will fall in love with this property. Click here to learn more about this beautiful home or browse our full collection of Barbados luxury villa rentals.