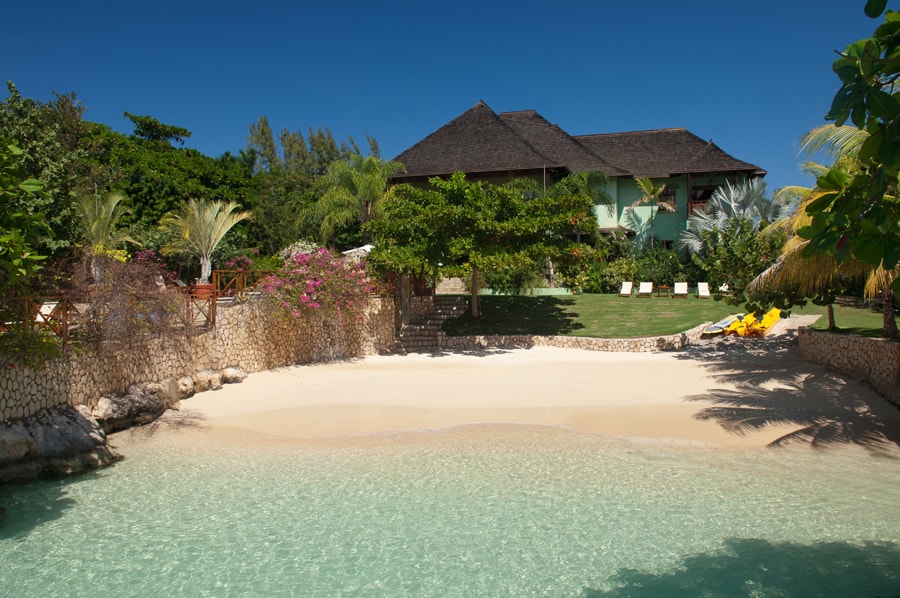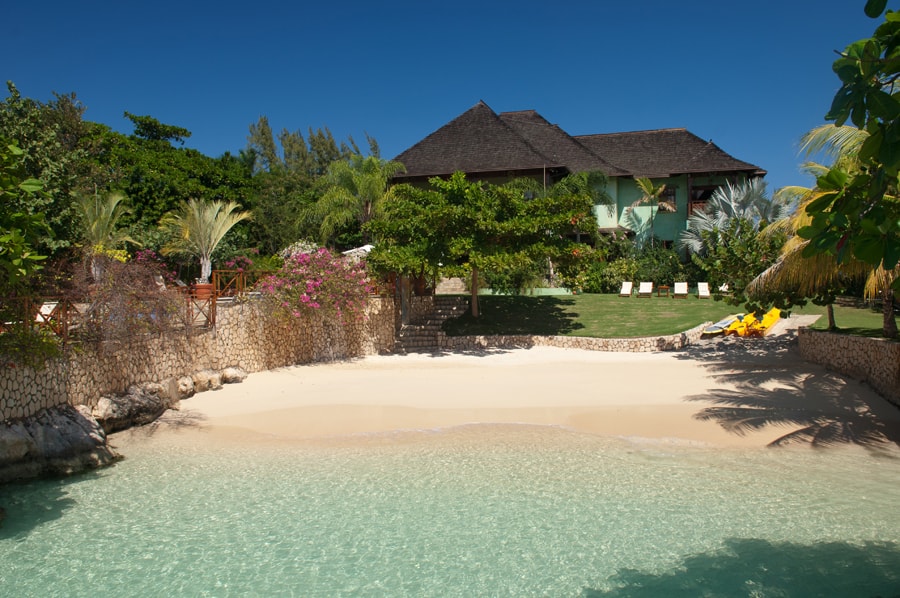 Whispering Waters is the luxurious sister villa of Keela Wee – a popular vacation estate on Jamaica's gorgeous Discovery Bay. The villas sit side by side, each on their own private strip of manmade beach. This new villa sits on a coral cove and can be rented on its own or in addition to Keela Wee.
Whispering Waters overlooks the ocean with beautiful, uninterrupted views. The private beach is filled with soft white sand and offers a perfect entry point for a dip in the water. A coral platform extends from the edge of the beach as a special place to sit and enjoy breathtaking sunsets or al fresco meals. Kayaks are available at the edge of the beach for exploring more of Discovery Bay.
The luxurious private pool and Jacuzzi are located right outside of the villa. Guests can spend entire days alternating between the pool and beach while enjoying gorgeous weather Jamaica is known for. A personal tennis court is onsite and equipped for night lit games.
Whispering Waters was designed with a juxtaposition of materials. Bamboo and debarked wood were used to create the unique ceilings. Each of the 7 bedrooms have their own special décor and offer highly luxurious furnishings. A personal gym and fully equipped gourmet kitchen are available at the guests' disposal.
The main level of the villa features a stunning Great Room. A large veranda and bar extend from the room and overlook the pool area. There's plenty of room for children to safely run around the private lawn.
A full staff is included to make a stay at Whispering Waters even better. Guests can enjoy delicious meals prepared daily while a butler and housekeeper ensure every request is met. Whether it's a getaway with friends or family, Whispering Waters offers an amazing luxury experience in Jamaica.
Click here to browse our entire collection of luxury Jamaica villas