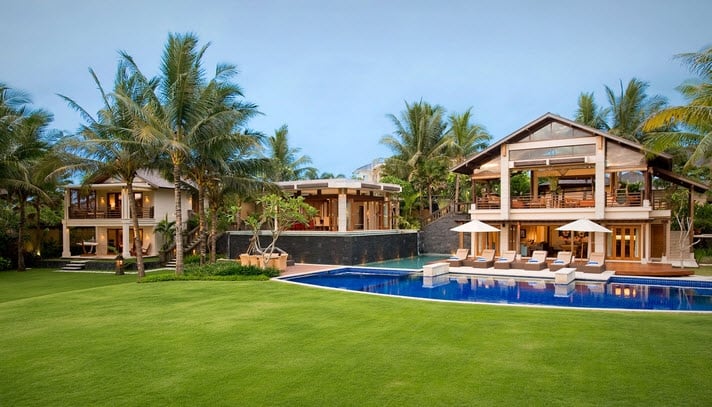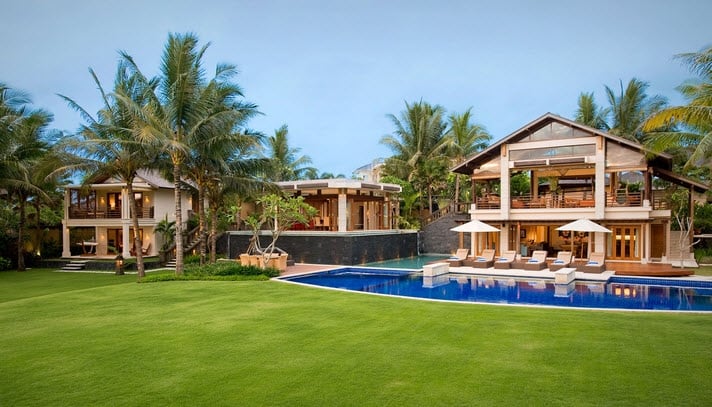 For those looking to plan a truly serene retreat, Bali is the place to be. With rolling rice fields and luxury villa rentals designed to promote tranquility, guests will fall in love with this peaceful destination. Villa Semarapura is one of Bali's premiere villas located along the picturesque west-coast area. This is a wonderful rental for families, groups, or even wedding parties.
Villa Semarapura rests on 5,000 square meters of beautiful gardens and lawns. Classic Balinese architecture was the main inspiration for the home. Alang-alang thatched roofs, sandstone walls, and dark wood floors set the tone for a relaxing getaway.
The centerpiece of the home is a 20-meter private swimming pool. Comfortable sun loungers are available to relax in and enjoy the views of the surrounding ocean.
The interior of Villa Semarapura perfectly pairs the old with the new. Modern artwork and traditional Indonesian artifacts decorate the villa, along with ultra-luxurious furnishings. There are 5 exquisitely decorated bedroom suites and 5 spa-style bathrooms. Large living areas, a gourmet kitchen, a formal dining room, and an outdoor bar are all available to enjoy.
A staff of 17 are on-site to make sure the needs of every guests are met. The private chef will prepare delicious meals inspired by Asian and Western cuisines. A butler is always available to serve cocktails and a driver is included to whisk guests to nearby tourist attractions.
Whether you're planning a family vacation or a special celebration, Villa Semarapura is the perfect backdrop for your luxury getaway in Bali.
Click here to learn more about Villa Semarapura or browse our full collection of Bali luxury villa rentals.