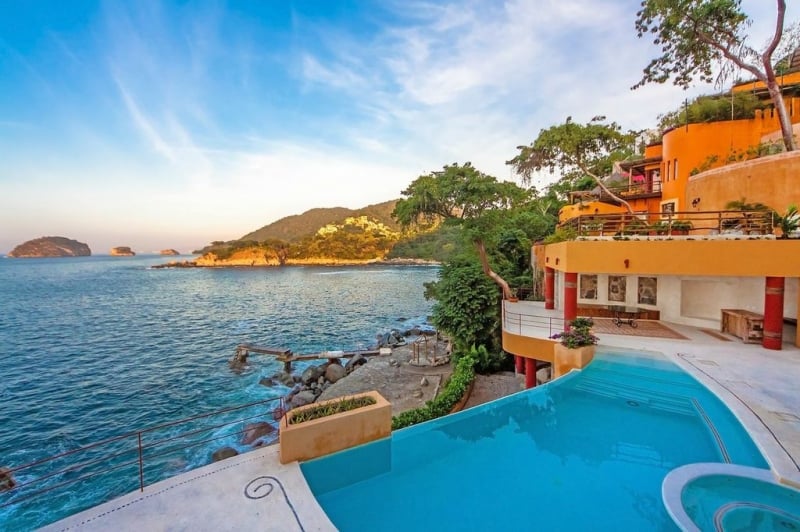 For many seasoned travellers in Mexico, Puerto Vallarta is by far a favourite place to stay. This incredible area is covered in lush mountains and has an addictive artistic charm. Villa Mandarinas stands out as one of the most mesmerizing luxury villas available in Puerto Vallarta. Anyone looking for a luxurious getaway shaded with privacy will find it hard to leave this incredible home.
Villa Mandarinas is unique in both design and location. The 15,000 square foot home cascades down 6 tiers of natural vegetation, peering over the beautiful Banderas Bay. Jungle surrounds the front side of the home while the back opens up to unobstructed ocean views. Guests can relax knowing their vacation is totally private from the outside world.
The villa interior features a cathedral like atmosphere. High ceilings, open-concept rooms, and custom furnishings decorate the 8 bedroom suites. Main areas include a grand dining room, living room with comfortable seating, full gourmet kitchen, and a games area. An amazing wood staircase acts as the centerpiece for the entire home.
An open-concept design scheme helps the interior to effortlessly flow outdoors at Villa Mandarinas. Guests have lots of cozy hammocks and lounge furniture to choose from for relaxing. An incredible private beach sits at one end of the villa, while a natural salt water pool sits at the other.
A stay at Villa Mandarinas means experiencing the full luxury treatment. The full-time villa staff includes multiple chefs and an onsite general manager. With every need taken care of guests can simply relax and take in the beauty of Puerto Vallarta.
Click here to learn more about Villa Mandarinas from Rental Escapes.