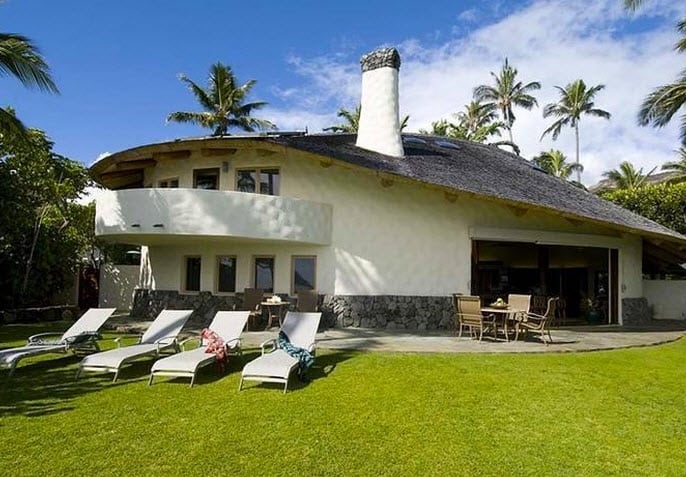 Oahu is a bustling member of Hawaii's chain of islands and home to three quarters of its residents. This beautiful island offers equal parts action and peaceful scenery, making it an excellent place to vacation. Lanikai Heart Estate is one of the island's most prestigious vacation villas, offering a luxurious haven that feels like home.
This incredible home is also known as the Paul Mitchell Estate. The famous hairdresser fell in love with Oahu and built the estate to embody the natural beauty of Hawaii. Since its birth in the 1980's the home has been brought into the 21st century with stylish and creative design.
Lanikai Heart Estate is made up of beautiful bungalows inspired by traditional Hawaiian decor. Marble, wood, and woven fiber were all used to build the home, creating a warm environment perfect for relaxing. 25 foot high ceilings and large open windows bring the natural beauty of Oahu inside.
There 7 bedrooms spaced over 7 structures, all exquisitely decorated and positioned for ocean views. 3 kitchens are available for entertaining all group sizes. Several dining and living areas are featured throughout the property, along with a sauna and private gym. Stone pathways surrounded by lush tropical gardens lead guests from one area to another.
Spending time outdoors is truly a magical experience at Lanikai Heart Estate. The property feels ultra private with a heart shaped gate and surrounding gardens. A private pool with jacuzzi and incredible stonework is the perfect place to socialize and enjoy a cocktail. Luxurious outdoor furniture is placed throughout the property where guests can sunbathe and relax.
Lanikai Heart Estate mixes luxury with Hawaii's natural beauty, offering the perfect place for families and friends to gather and enjoy an amazing getaway.
Click here to learn more about this gorgeous estate or browse our full collection of Hawaii villa rentals.