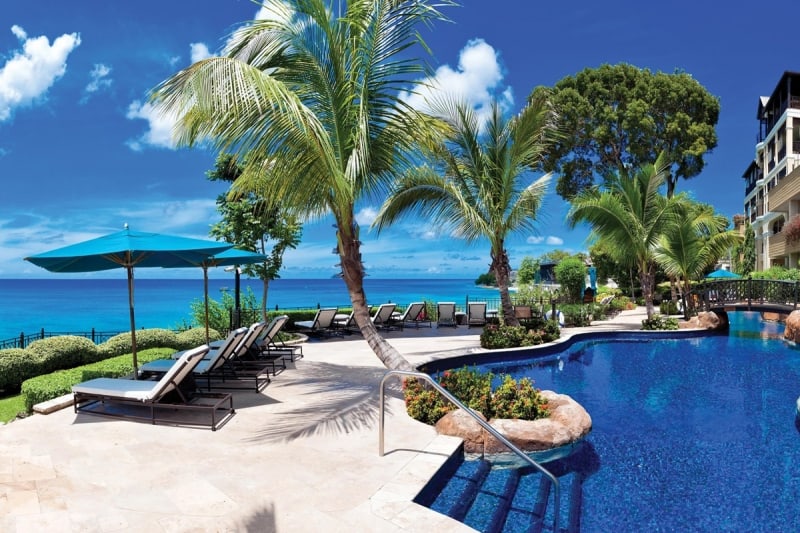 If you're looking for the ultimate luxurious, private vacation then Sandy Lane in Barbados is the perfect destination for you. The gated community is full of the island's most prestigious villa rentals, including the elegant Langara penthouse. This beautiful 4 bedroom paradise has the amenities and style to make any guest feel totally pampered.
Langara takes up the entire top floor of the Sandy Cove residential development. The penthouse is perfectly positioned for sweeping views of the ocean and evening sunsets. Looking down from the luxurious rooftop terrace guests will see a sheltered cerulean swimming cove and lush tropical gardens.
The stylish penthouse encompasses over 6,500 square feet of elegant living area. Interior spaces are decorated with marble floors, white furnishings, and pops of color to match the surrounding tropical landscape.
Each of the 4 bedrooms are highly luxurious and decked out with state of the art technology. Lighting controls, security features, and an entertainment centre can be controlled throughout the home. All guests will enjoy private terraces with breathtaking ocean views. The master suite features a stunning chandelier, marble rain shower and freestanding tub.
Perhaps the most enticing feature of Langara are the large rooftop terraces. On the north side a beautiful swimming pool, dining patio, and outdoor grill are available and perfect for entertaining. A convenient seaside elevator takes guests directly from the pool deck down to the beach.
A stay at this pristine penthouse is made even better with 5-star amenities. All of guests needs will be met by the on-site staffed including a private chef and butler. A luxury yacht can be rented out for beautiful days and evenings spent on the water. Snorkeling and paddle boarding equipment is included for memorable beach moments.
Anyone looking for an unforgettable beachfront getaway draped in luxury will fall in love with Langara. Click here to learn more about this beautiful home or browse our full collection of Barbados luxury villa rentals.