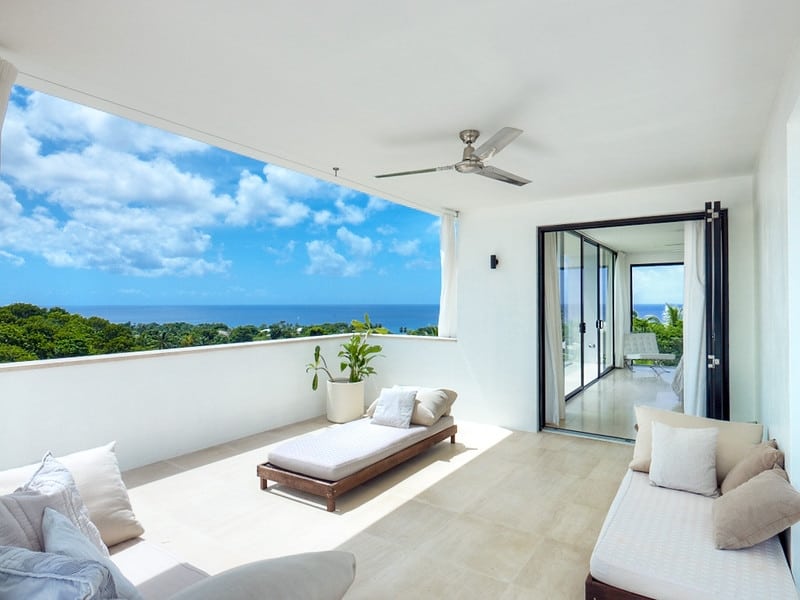 Barbados is known for its classic, elegant style which is reflected through luxury villas on the island. While most of the homes exude this timeless style, some newer projects have emerged with sleek, contemporary design. Atelier House is a newly built villa that features incredible modern flair and total luxury.
This beautiful home sits on a ridge above the West Coast of Barbados surrounded by views of the ocean. Atelier House was designed by Alistair Downie who has completed notable contemporary homes in London, France, Italy and Kenya.
The exterior of the home is a lush paradise filled with tropical gardens. Different species of lilies, bougainvillaea, and palms create a private haven perfect for relaxing. A striking infinity pool sits at the edge of the property looking out at the incredible scenery. In addition to the main pool deck and terraces there's a rooftop patio and mezzanine for guests to enjoy.
There are 4 luxurious bedrooms in Atelier House. The upstairs master suite features a balcony, covered outdoor terrace, and en-suite bathroom. All of the ground floor bedrooms have access to two bathrooms and a luxurious outdoor shower.
Other luxurious amenities of Atelier House include two top of line kitchens and a full on-site staff. Villa guests will have all of their needs met by a private chef, housekeeper, and house concierge.
Whether you're looking to escape with family or friends Atelier House provides a modern take on the luxury villa experience in Barbados.
Find out more about Atelier House or browse our full collection of Barbados luxury villas now!