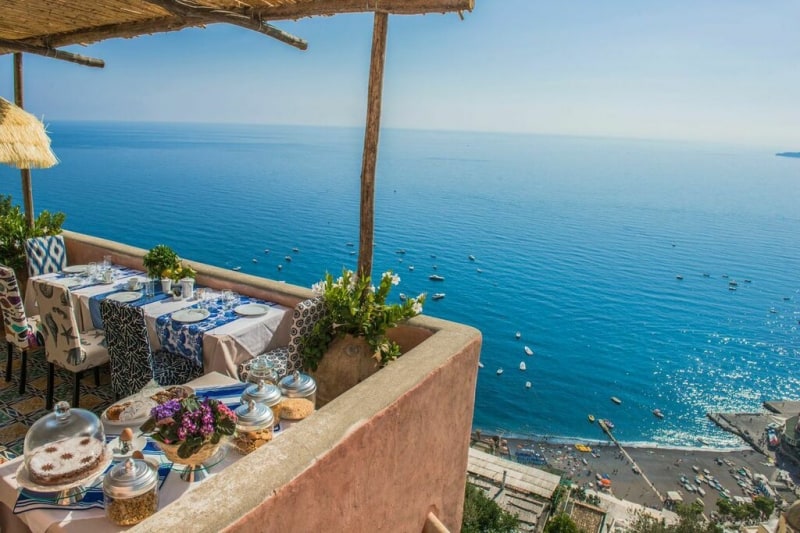 Italy's Amalfi Coast is one of the most scenic destinations to visit in Europe. The hills leading to the coast are
decorated with homes and surrounded by unobstructed ocean views. Villa Eva is one of the most prestigious luxury homes available to rent for a holiday on the coast.
This incredible 8 bedroom estate sits on Roman ruins and is perched over a dramatic cliff. It was built as a status
symbol and filled with imported art, furniture, and hand painted tiles. Today Villa Eva is in pristine condition, combining modern luxuries with its original classic style thanks to recent renovations.
The view from Villa Eva says it all; a panoramic view of the Amalfi coast surrounds the entire home. Beautiful fruit, almond, and olive trees decorate the property along with magnificent floral gardens. An expansive main terrace runs along the entire villa, offering various dining and living areas. Enjoying meals prepared by the expert staff in an al fresco setting will be a highlighting feature of a stay at Villa Eva.
The gorgeous villa interior instantly transports you to when the home was designed. Tasteful antique furniture, fresco paintings, and high ceilings create a classical atmosphere perfect for relaxing. A large open kitchen is complete with a wood oven for making pizza and bread.
In addition to 8 separate luxury bedrooms, guests have use of a large media room, library, and another terrace complete with an incredible infinity edge pool. With so much space to enjoy this is a perfect villa for a getaway with family or friends.
Ready to plan a luxurious getaway to Italy? Click here for more information on Villa Eva.