If you're heading to the Turks and Caicos to soak up the incredible sun, surf, and sand, you'll want to stay in a private luxury villa. Providenciales is where you'll find most the most luxurious homes available, including the renowned Villa Mani. This fully staffed estate will astound guests with its charm, amenities and impeccable service.
Villa Mani is conveniently located just 20 minutes from the Providenciales airport on the southern side of the island. The villa is totally private and offers elevated views of the turquoise Caribbean water. Guests can enjoy the perfect weather on a private beach equipped with tiki bar, bridge, paddle boards, beach toys, and a volleyball court. From the private dock a 33 foot express cruiser is at your disposal to tour the island, snorkel, and fish. The unique pool setting at Villa Mani is the ideal place to spend a lazy afternoon. A three level infinity pool cascading to the ocean, pool bar, and lounge area all decorate the sun deck.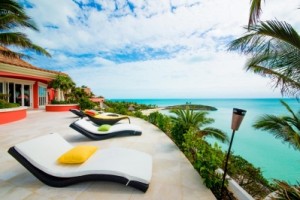 The villa interior features 6 bedroom suites and 7 bathrooms spread out in the main home, octagonal tower, and guest house. Each room is lavishly decorated with luxury furnishings and bedding. Multiple living areas, a gourmet kitchen, and indoor bar are all available for relaxing moments inside.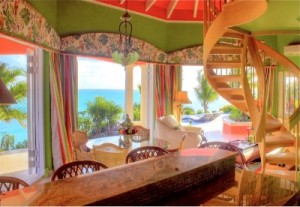 A stay at Villa Mani is brought to an ultra-luxurious level by the amazing service. From the second guests arrive they are totally pampered by the dedicated on-site staff. Housekeeping and laundry are taken care of everyday, while a private chef prepares gourmet meals for breakfast, lunch and dinner.
Villa Mani is the ultimate place to indulge in true luxury while experiencing the  beauty of the Turks and Caicos. Whether you're travelling with family, friends, or your wedding party, there's no experience this incredible villa can't accommodate.
To learn more about this villa click here: bit.ly/1XfrvkW
To learn more about villas in the Turks & Caicos click here: bit.ly/1TwW6MB