Whether it's a villa, estate, or condo, private rentals have become the new gold standard in travel. Guests prefer the privacy, exclusivity, and amazing amenities that come along with a luxury rental. There's nothing like having your own space while being totally pampered on a much needed getaway. We're always building our collection of luxury rentals; here are some wonderful January additions to our portfolio.
Flower Power – Ibiza, Spain
Flower Power is located on a nature reserve in Ibiza, one of Spain's most desirable destinations. The recently renovated villa is decked out in stylish décor and modern luxuries. Outdoors a large teak deck has two swimming pools and ample seating for sunbathing. The interior boasts white surfaces, furniture and appliances with hits of colorful art. This is a perfect villa for a group of friends looking to get away and relax in style.
Click here to inquire about Flower Power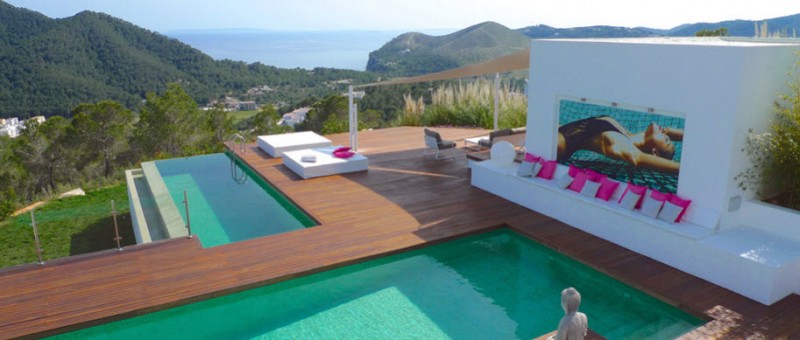 Honde – Mykonos, Greece
Looking over Super Paradise beach in beautiful Mykonos is Villa Honde. This contemporary masterpiece was designed by two accomplished architects looking to build something for elite travelers. An infinity pool sweeps across the entire front of the property with incredible panoramic views of the ocean. After a day of lounging by the pool guests can enjoy grilling, dining, and relaxing on the luxurious outdoor furniture. Indoors the villa is refined and elegant, with a neutral color scheme and modern appliances.
Click here to inquire about Honde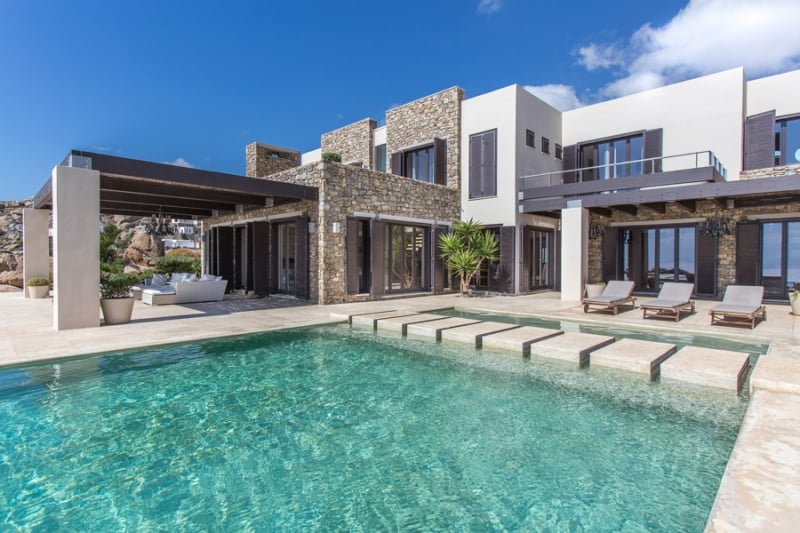 Arya – Mykonos, Greece
Also located in Mykonos is Villa Arya, an 8 bedroom haven situated between Paradise and Paranga beach. The villa is perched directly over the Aegean Sea, providing the most romantic nighttime setting you could hope for. Beautiful stone covers the entire patio area, which is decked out with an infinity pool, Jacuzzi, dining areas, and a lush garden lining.
Click here to inquire about Arya
Luxury Suites – Madikwe Game Reserve
The Madikwe Game Reserve is one of the many luxury safaris in South Africa. Staying on the reserve is like no other vacation experience available. Each luxury suite is totally open concept, making it easy to observe the African wildlife that grazes the property. A king sized bed draped in muslin, private deck pool, and outdoor claw foot bathtub are all featured in the luxury suite. Guests of the Madikwe Game Reserve will experience a rustic safari and pampering getaway all in one.
Click here to inquire about the Madikwe Luxury Suites
Sweetwater Villa – Fowl Cay, Bahamas
Fowl Cay is a luxury resort located in Exumas, Bahamas. The island is a picturesque paradise filled with turquoise water and sugary soft sand. Sweetwater Villa sleeps up to 6 people in 3 bedrooms and is found on prime beachfront location in the resort. After a long day exploring surrounding islands and enjoying the resorts amenities, guests of Sweetwater Villa will love relaxing in the privacy of their own luxurious home.
Click here to inquire about Sweetwater Villa