Jamaica is one of the most popular tourist locations in the Caribbean. It's a great place to visit for couples, families or large groups who love to enjoy unique beaches, tropical landscapes, and enjoy luxurious beach front accommodations. Each region offers a different sort of adventure and exposure to the vibrant culture that inhabits the island. Hummingbird villa is a great property for rent in the Montego bay area and is a crown jewel of luxurious contemporary design.
The sprawling villa has over 14,000 Square feet that will leave you and your party in awe. The property has some of the most amazing views of The Tryall Club and the ocean.  A huge 50 feet private pool set amidst four acres of beautifully manicured gardens on Barnes Hill makes sets the scene for beautiful days in the sun.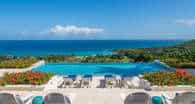 The interior of this villa is contemporary and incredibly well designed. Each piece of décor works together to create a calming atmosphere. An open air living room looks out onto the pool and is the perfect place for a cosy afternoon nap. The villa has seven bedrooms, each minimally decorated with their own en suite bathroom.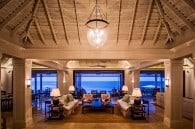 Breathtaking panoramas of the rolling green fairways and the brilliant blue seas are captured from every area of the impeccably designed and large living spaces.
There are numerous options for family fun and entertainment including a games area with pool table, a state of the art media center and an entertainment center with 70 inch HD flat screen. Either way, your meals will be wonderful experiences set against a backdrop of spectacular Caribbean sunsets, and heightened by the culinary talent of your private Chef.
Hummingbird House is a great villa for a family of group of friends that appreciate impeccable style and countless activities. Inquire now and let our villa specialists plan your ideal vacation – all you have to do is arrive, grab a drink, and enjoy a dream getaway!
Click here to inquire about Hummingbird Villa: bit.ly/1TnwW0h
Click here to browse all our villas in Jamaica: bit.ly/1QsQSub