Last time we spoke, dear friends, I offered you six tips for booking a villa for the holidays. We were definitely approaching last-minute status in terms of finding villas still available for the holidays then, and the zero hour is only getting closer (to paraphrase House Stark, December is coming).
With temperatures dropping further and Thanksgiving around the corner in the US, though, I have a feeling talk around the dinner table might turn to travel, as opposed to more controversial topics like, say, the US Presidential Elections, which I think left us all with a bipartisan need for a vacation. Plus, in the words of former President George W. Bush, "there's nothing like havin a few friends over for a cocktail or two," unless of course they're being served to you on New Year's Eve by your private bartender at a beachfront villa in the Caribbean, where I assure you Obamacare will not be the primary topic of conversation. That's why I figured I'd put
Since I'm always keeping tabs on which islands still have the most and best villas still available for the holidays, I figured I'd set up a list of hot spots where you can not only still find amazing villas, but also surprisingly great last-minute deals (like the villas pictured in this post).
6. Punta Cana, Dominican Republic
Punta Cana, which, in case you didn't know, was voted by none other than UNESCO as having some of the best beaches in the world, still has tons of great villas still available for the holidays. This is partly due to the sheer size of the development, and also because the villas themselves are designed to host as many people as possible – like Tortuga Bay B53 for example, which has 4 bedrooms but sleeps 10 (and is still available for the holidays)! In fact, most of the Punta Cana villas have at least a few bedrooms with two Queen beds, making them an amazing value for bigger groups by allowing everyone to stay in one villa, with the added benefit of leaving more villas free to rent for other groups. Plus when you factor the great rates on private chefs and the fun of zipping along to all the different beaches in your own golf carts, Punta Cana makes for a great choice any time of year.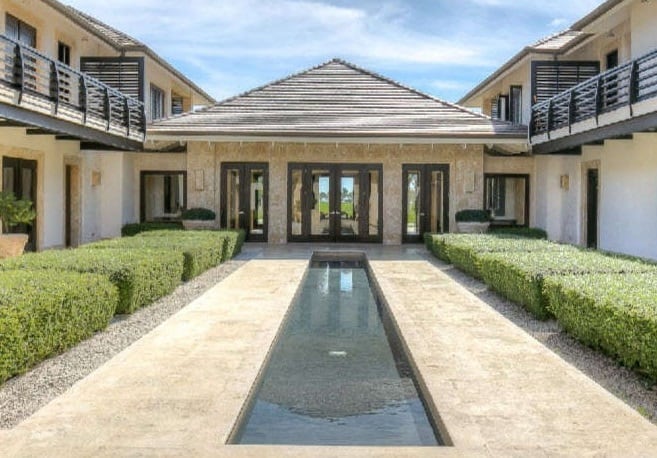 5. St Barts
While Punta Cana's entry may not be surprising given its size, St. Barts is known more for its exclusivity than for its massive, value-driven villas. In some ways, though, that exclusivity actually makes it a great last-minute holiday choice. For one, many travellers don't consider St. Barts because they assume it will be prohibitively expensive, but in reality you can get some amazing deals that rival those on any other island, both on the hills and down near Gustavia and St. Jean. Secondly, St. Barts is one of those places where owners were holding out for two week minimums over the holidays but have since relented. For these reasons, it's a great spot to look right now, especially if you love the idea of a romantic one-bedroom condo overlooking a yacht-filled harbour, or a two bedroom villa with unparalleled views of the surrounding islands.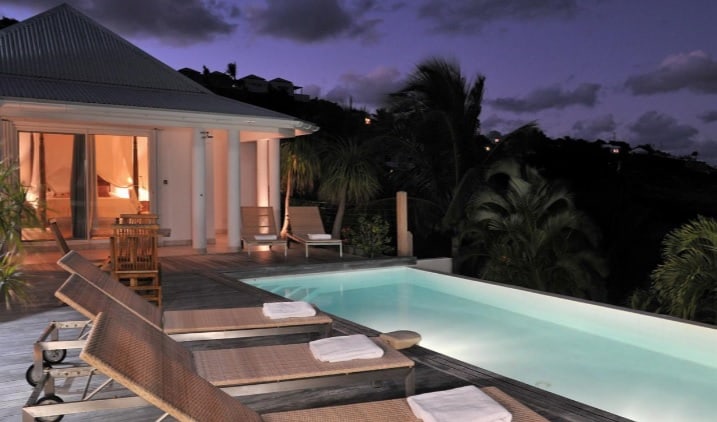 4. Punta Mita
Like with St. Barts, you wouldn't expect one of the most exclusive destinations to have so much availability during the holidays. Unlike St. Barts, though, this availability is somewhat justified, since Punta Mita is quickly becoming one of the most expensive sunshine spots, owing to the low-key vibes which have attracted celebrities as diverse as Kim Kardashian, Charlie Sheen, and even Lady Gaga, who was caught catching some serious waves. Still, while there are definitely still villas at the St. Regis that will set you back close to $100K for the week, you can still find availability near some of the more modest resorts(which, in the context of Punta Mita, means under $5,000 per night), like Villa Jade in Porta Fortuna, still available for the holidays at a reasonable $19,500/week.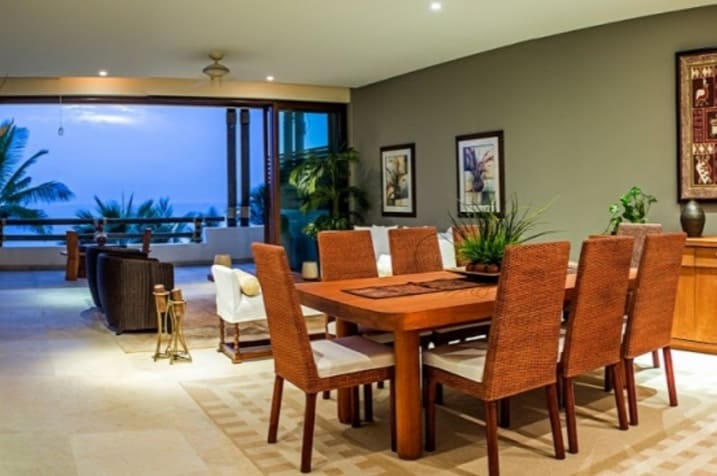 3. Puerto Vallarta
In case Punta Mita is too low-key or expensive for your tastes, the original jewel of the Mexican Riviera, Puerto Vallarta, has some lovely villas still available for the holidays at very reasonable prices, like the 3-bedroom, oceanfront Villa Verdana at only $6,300/week for New Year's week! Aside from beautiful beaches and gorgeous landscapes, Puerto Vallarta also has a great food scene, amazing nightlife, and is one of the most LGBT-friendly vacation destinations in the world. Better book now!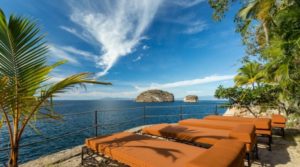 2. Barbados
Partying like Rihanna on New Years may be easier than ever considering all the great apartment rentals and villas still available for the holidays on the West Coast (aka the Platinum Coast) and South Coast of Barbados. Like with St. Barts, the beginning of the year saw plenty of owners asking for 2 week minimums because of how Christmas and New Years fall. Now that they realise people tend to have jobs and school, they've lowered their minimums, and, best of all, many have even lowered their rental rates in order to make up for lost time. Plus with beautiful, calm beaches (hence the term 'Platinum Coast,'), a vibrant culture, awesome cuisine, reasonable prices, and friendly people, Barbados is the perfect place to escape all that work, work, work.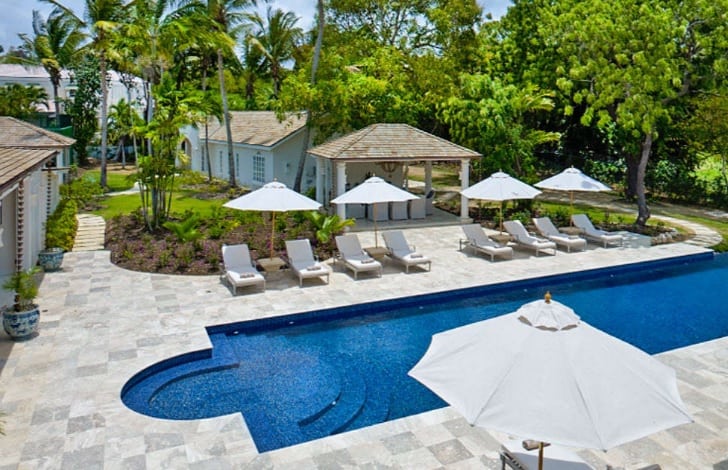 1. Saint Martin
Saint Martin is villa country, and with so many rentals to offer, it's nearly impossible to fill them all up. Knowing this, owners don't tend to overcharge for the holidays, though a reasonable premium should still be expected. Your best bet here is to look for available villas in Terres Basses, which is a gated community near Simpson Bay that's home to the island's best villas, giving you all the rest, relaxation, and luxury you could want while still being close to all the island's best restaurants, nightlife and casinos. Plus, it's a major Caribbean point of entry, so it shouldn't be too hard to find cheap flights (or, worst case, a combination of flights and ferries), even during the busiest weeks of the holidays. Throw in the best food in the Caribbean, vibrant neighbourhoods you can safely explore to your heart's content, great diving,  luxurious yacht charters to neighbouring St. Barts and Anguilla, and  a host of other amazing excursions our concierge can arrange for you, and you have one of the best beach destinations for the 2016 holidays.
 
So what are you waiting for?
Many of the villas still available for the holidays on these islands are the result of cancellations or owners mercifully changing their holidays rental policies from 2-week minimums to 1-week minimums or less, so I'd advise moving quickly and checking out the available options on any of these gorgeous islands as soon as possible. Better yet, considering how busy November is for most of us, let one of our reservations managers do it for you – all you have to do is inquire on any property on the site and you'll be put in touch with one.  Or you can email or call any of our  reservations agents which you've dealt with in the past  (if it's your first time renting with us, email [email protected] or call 1-800-808-2097 in North America; +1-514-360-2529 for the rest of the world) and explain what you're looking for and let us find the perfect villa options for you (don't worry – you can still take all the credit when you show them to your group).