You wake up at around 10 a.m., feeling slightly guilty about sleeping in, not because of the indulgence, but because you know you already missed at least 3 hours of beautiful Montego Bay sunshine. You couldn't help it, though – the sound of the waves crashing, cliche as it may sound, made you sleep like a baby, but you're awake now and have all the energy and zest of a toddler. After washing up and throwing on some casual clothes, you shimmy downstairs to find your travel-mates have also recently gotten up. They're chatting away with the cook, who's regaling them with tales of her childhood, occasionally slipping into a charming Patois. She's making everyone customised omelettes – with some help from one of the maids, who also doubles as an assistant cook, she has bowls of chopped onion, green pepper, bacon, jalapeno, and grated cheddar cheese laid out in front of her. You order the works, and watch as she skillfully mixes all the ingredients together, cooking your eggs perfectly without ever breaking stride in the conversation, which you've now become an enthusiastic participant in. Once the omelette's done, the waitress brings it to you, along with a side of breakfast potatoes, a cup of coffee, and some orange juice. You take a bite of the potatoes, and can't believe how well-seasoned they are. Oregano? All Spice? You have no clue, but it's delicious. Same goes for the omelette, though you're better able to suspect why that's so good – having gone to the fresh fruit and vegetable stand just yesterday, your cook basically prepared you a farm-to-table breakfast. You finish eating casually around the breakfast bar as more of your housemates stream in and out, each one leaving with a bigger smile than the one they brought in with them.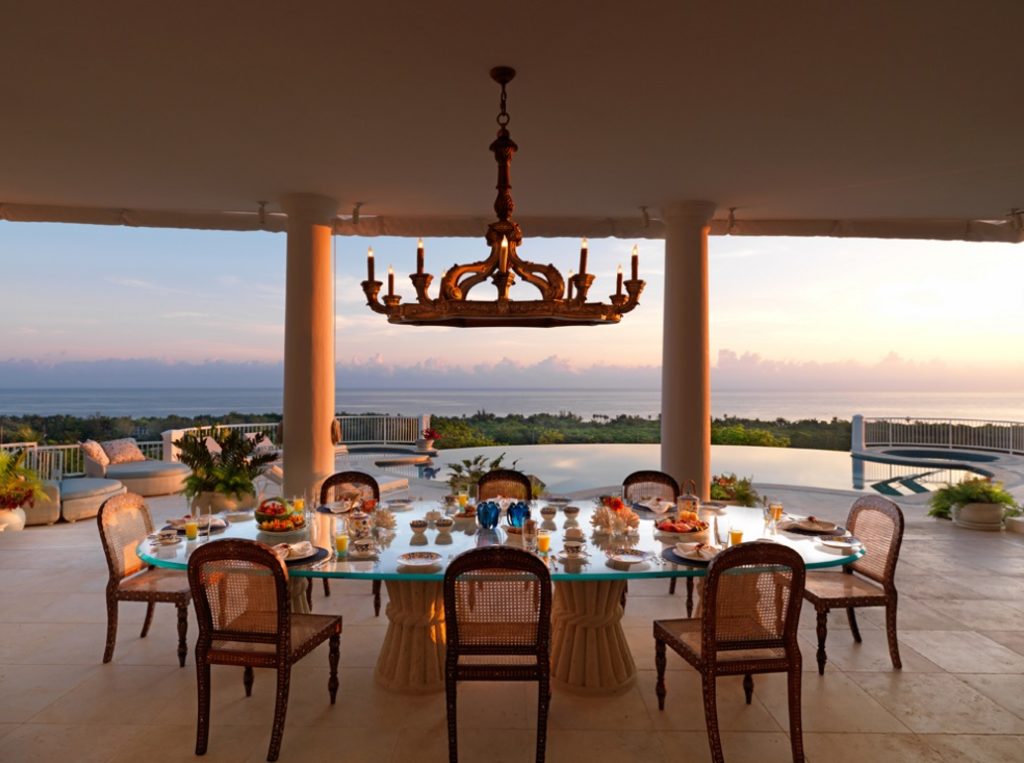 After breakfast, you decide you'd like to head to the beach. It's a short trip over, but it's made you hot – you dive right into the water, which, at a balmy 82 degrees, once again reinforces your decision to skip Miami this year and go some place a bit warmer. You go back to your beach chair and enjoy an hour or two of relatively safe sunbathing, bearing in mind everyone's warnings about lying under the direct sun during its peak hours. A waiter comes in and asks if you need anything. You'd ordinarily never drink before noon, but something about the sun, the surf, the reggae playing from the beach bar, and the sight of everyone around you looking so happy makes you decide to have a rum punch. You sip it slowly while watching the slow waves lazily crash along the sand, only occasionally taking your eyes off the spectacle to people watch, or maybe read a few pages of the book you brought.
It's only been a few hours since breakfast, but you're already looking forward to lunch. You head back to the villa. Once again, the walk's made you hot, so you jump into the pool once you get there. After a quick shower, you're told lunch will be served by the pool in a half an hour. That gives everyone just enough time to go over the plans for the day. They sound fun, maybe too fun – you don't know how you're going to squeeze all those activities into one day. A few of your travel-mates opt out of the adventure, and are instead having therapists over to the villa for a private spa treatment. Looking out at the pool, you're tempted to join them, but hearing the rest of the group continue to talk excitedly about the day's adventures convinces you otherwise. Suddenly, you smell the barbecue, and your appetite intensifies. Before you know it, the waitresses are serving up generous helpings of Jerk chicken and Jerk pork, with collared greens and potato salad on the side. You all agree it's the best jerk chicken you've ever had. A quick slice of lemon pay for dessert, and then you all hop into your driver's van, headed east to Ocho Rios.
Your concierge has arranged to have a tour guide take you for a climb up the famous Dunn's River Falls, then swimming and tubing down the Secret Falls, followed by a quick visit to the Green Grotto before a sunset zip-lining session to end the day. You marvel at how well your driver is able to navigate the narrow stretches of road between MoBay and Ochie, deftly avoiding pedestrians, bicyclists, and other drivers, and are glad that your group quickly gave up any illusion of renting a car. You slowly relax and admire the passing countryside, marvelling at the sea as it makes its many appearances, and curiously taking in the scene from the many villages you pass by.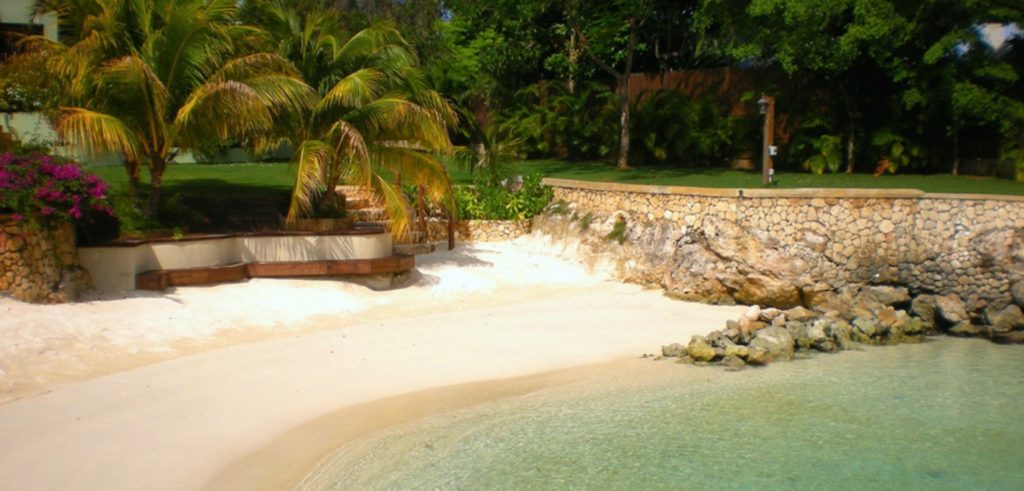 Before you know it, you're climbing up the famous Falls, cautiously following your tour guide as you admire the beautiful scenery, all the while laughing with your travel-mates and strangers alike, the laughter getting more intense the higher up the Falls you go. By the time you reach the top, you feel triumphant, elated, but hot, and ready for a swim. Luckily, the Secret Falls are close by and allow guests to jump into the water. That's the first thing you do once you hit the Secret Falls, and the feeling of swimming underneath the gorgeous cascading water is amazing. More laughter ensues as you climb into your tubes and gently glide down the river, interrupted only by moments of silent contemplation for how gorgeous everything is around you. After drying up, you're taken to the Green Grotto, and listen intently as your tour guide tells you about how it used to be a refuge for escaped slaves fleeing the English. The pool 120 ft. deep inside is like nothing you've ever seen, and you're again immediately tempted to jump right in. The water's cooler than before, but it's still a refreshing treat after all that walking. Luckily, you're able to drive over to your last adventure of the day, zip-lining, and as you soar over the lush canopy and winding river that you were just tubing in, watching the sun set over it all, you have an important, albeit simple, epiphany – that life is good.
You get back to your villa and dinner is already waiting in the dining room – lobster bisque, followed by a refreshing seafood ceviche, grilled jumbo prawns, lobster tails, and a lovely green salad and pasta salad on the side. With all the seafood having been caught fresh that morning, it's easily one of the best meals you've ever had. Everyone goes over their favourite parts of the day with each other and the staff, who have quickly become more like friends than anything else. The cook says she'd never go zip-lining, and that it's for "crazy tourists!" Everyone has a good laugh, with the laughter continuing on into the night as the cocktails and desserts flow freely. Life, indeed, is good.
Find your perfect luxury rental in Montego Bay here!