Consisting of some of the most luxurious destinations in the Caribbean, the Turks & Caicos islands boast gorgeous white sandy beaches, calm and glimmering turquoise waters, and numerous national parks. 
If you're planning a trip to Turks and Caicos to soak up the incredible sun, surf, and sand, you'll definitely want to stay in a private luxury villa. Rental Escapes is proud to offer visitors a range of exclusive villas in the heart of paradise. Here are a few of our top picks in this unforgettable and luxurious destination:
La Dolce Vita Villa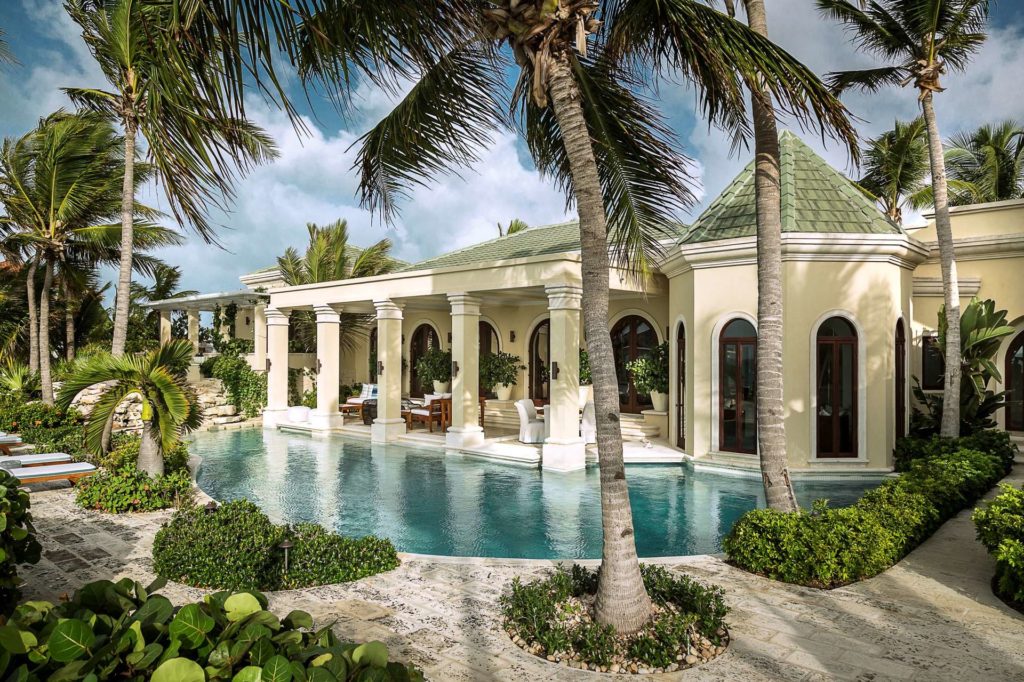 The opulent La Dolce Vita villa sits on the shores of Providenciales Long Bay Beach with nine bedrooms and expansive living space totaling more than 12,300 square feet. 
The villa, valued at more than $25 million, features striking modern design both indoors and out. Situated on just over four acres with more than 430 feet of beachfront, guests of La Dolce Vita enjoy superlative elevated service and an exclusive set of ultra-luxury amenities.
Villa amenities: Gated community, beachfront, housekeeping/staff, private pool, fire pit.  
Nearby activities: Jet skiing, golf, hiking, windsurfing, fishing, swimming. 
Book Your Own Stay at La Dolce Vita Villa. 
Turtle Tail Estate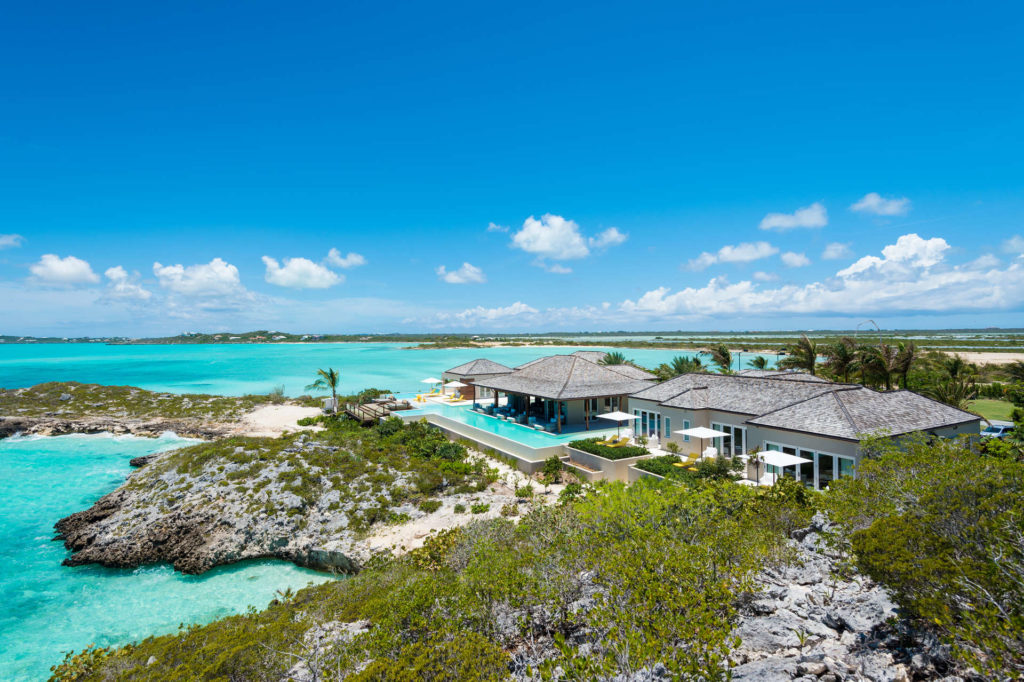 This luxurious estate comprises five master bedrooms, as well as a two bedroom guest cottage at the property entrance. The main house features a great room for formal dining and entertaining, a day room that opens on three sides, a private office, a family kitchen and breakfast room, a second professional-grade staff kitchen with pizza oven and a 500 bottle wine cellar and humidor among some of its many spaces. Each bedroom has an ocean view, private deck and en suite bathroom.
Set on iron shore at the water's edge, the pool spans the length of the house, weaving between living structures. The property offers a 16 person lounge and fire pit, a 12 top shaded dining area, multiple ocean side daybeds and lounge areas and a small private beach enclave steps from the deck. A private dock allows boat excursion pickups directly from the home.
Villa amenities: Pizza oven, hot tub, movie theater, heated private pool, tennis court, outdoor shower.  
Nearby activities: Deep sea fishing, eco tourism, snorkeling, golf, kayaking, wifi. 
Book Your Own Stay at Turtle Tail Estate.
Triton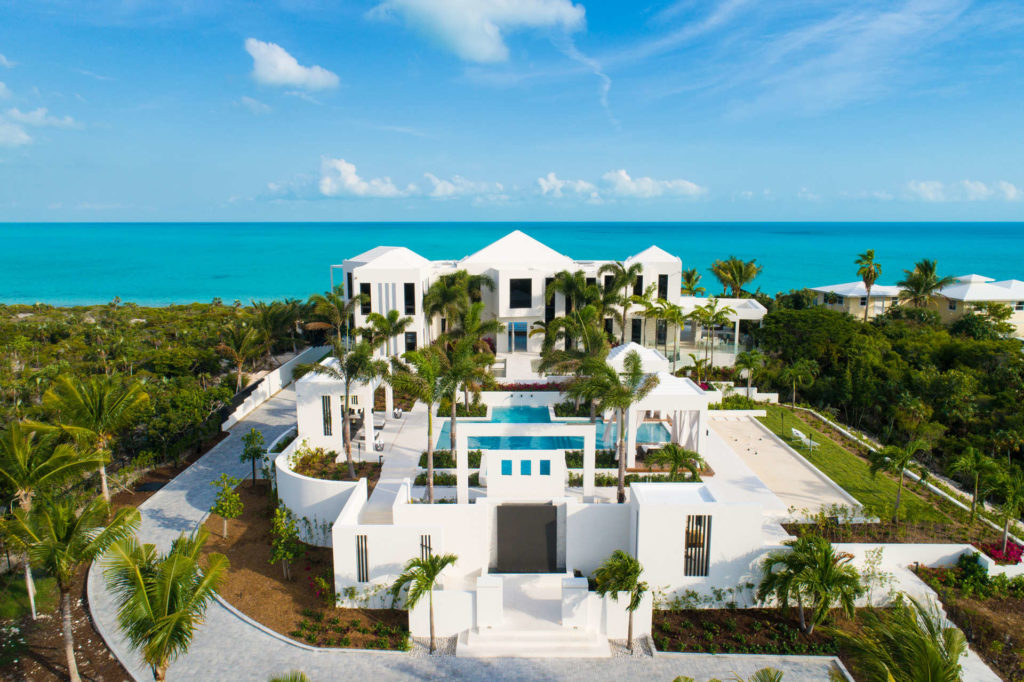 Tucked behind the pristine sand dunes of Long Bay Beach, Triton Luxury Villa has set a new standard for luxury in Turks & Caicos. The estate occupies over two acres of lush landscape and 10,000 square feet of lavish beachfront living space. 
Triton includes seven bedrooms, an outdoor movie theater with fire pit, hot tub, two pools, private tennis and bocce ball courts, villa butler, one of the nicest beach- fronts on Long Bay and endless unobstructed views of the world famous turquoise waters of the Turks and Caicos Islands.
Not only does this contemporary Turks & Caicos vacation rental boast a breathtaking setting on the white sands and turquoise waters of Long Bay Beach, but its bright, open living spaces enchant with their relaxed modern style
Villa amenities: Gated community, beachfront, two pools, outdoor movie theater, fire pit, private gated entry, infinity edge hot tub, housekeeping/staff .  
Nearby activities: Hiking, snorkeling, deep sea fishing, tennis, windsurfing, golf, sailing. 
Book Your Own Stay at Triton.
Salacia Villa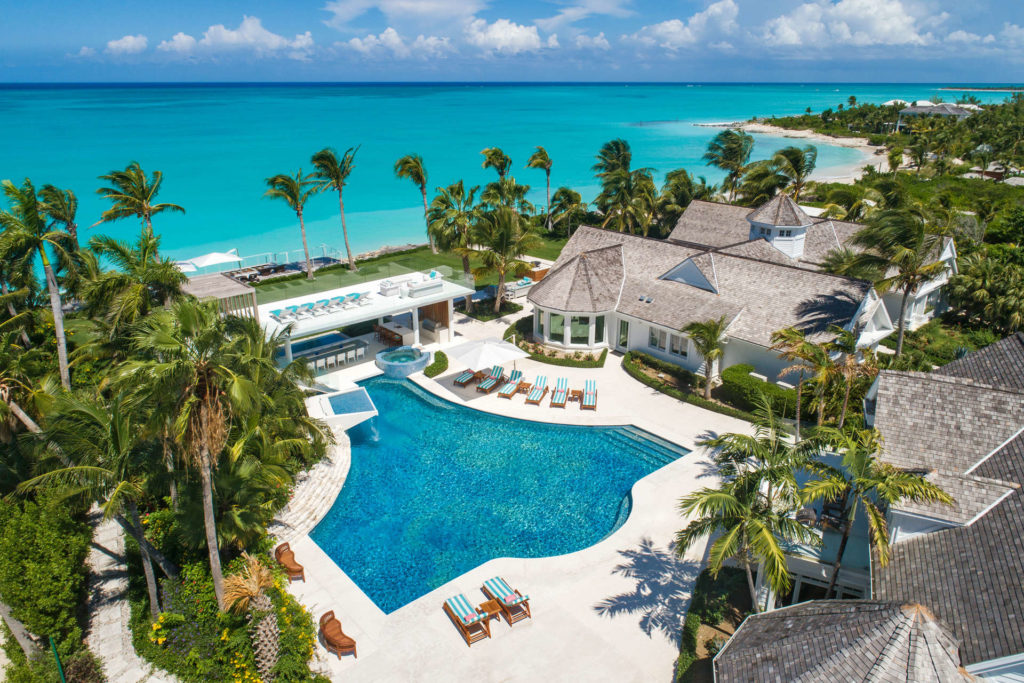 Salacia Villa is a breathtaking six-bedroom waterfront property on Grace Bay Beach. 
The sprawling outdoor landscape incorporates an expansive deck with a vista overlooking the stunning turquoise waters. There is outdoor dining, with pizza oven and grill along with a spectacular deck above where you can sit and enjoy unforgettable sunset views. 
The indoor bar and games room is perfect for evening entertainment or choose to relax around the fire pit with cocktails and music.
Villa amenities: Gated property, private pool, pizza oven, complimentary round trip airport transfer, private chef, housekeeping, hot tub, outdoor shower.  
Nearby activities: Scuba diving, snorkeling, hiking, sailing, swimming, bird watching, fishing. 
Book Your Own Stay at Salacia Villa.
Vision Beach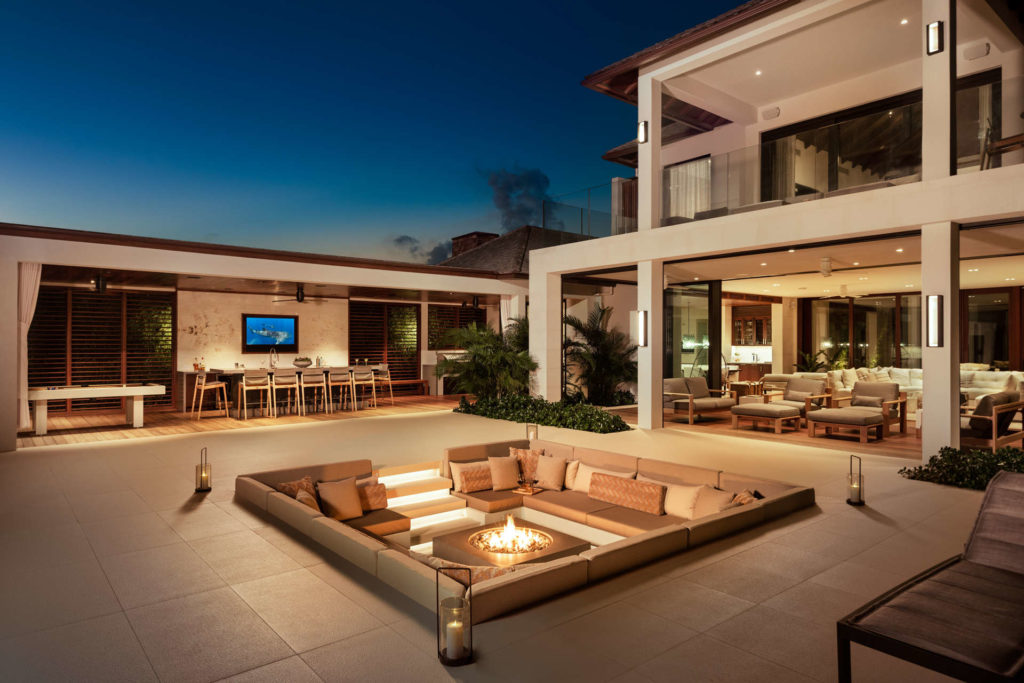 At Vision Beach you will experience the quality of hotel service in your own private villa. Three master bedrooms have stunning views of the turquoise waters and the beautiful white sand. A further two family rooms enable the house to cater for up to 14 guests. 
Professionally trained staff including chef, butler and maid pander to your every need and ensure you are able to enjoy every moment of your holiday. In the cool of the early morning take long walks on the miles of beach and for the more active make use of a selection of kayaks and paddle boards.
Experience the sunsets from the beach deck with the waves lapping only a few feet away or relax in the hot tub with a freshly prepared cocktail. After dinner, gather by the outdoor bar for a bit of evening fun with family and friends. Retire by the fire pit for the perfect way to end the night while your favorite tunes play in the background.
Villa amenities: Round trip airport transfer, beachfront, private pool, fire pit, hot tub, wifi, fitness room, butler, chef, housekeeping.  
Nearby activities: Cycling, beach combing, golf, sailing, tennis, swimming, snorkeling, surfing, fishing. 
Book Your Own Stay at Vision Beach.
Hawksbill Estate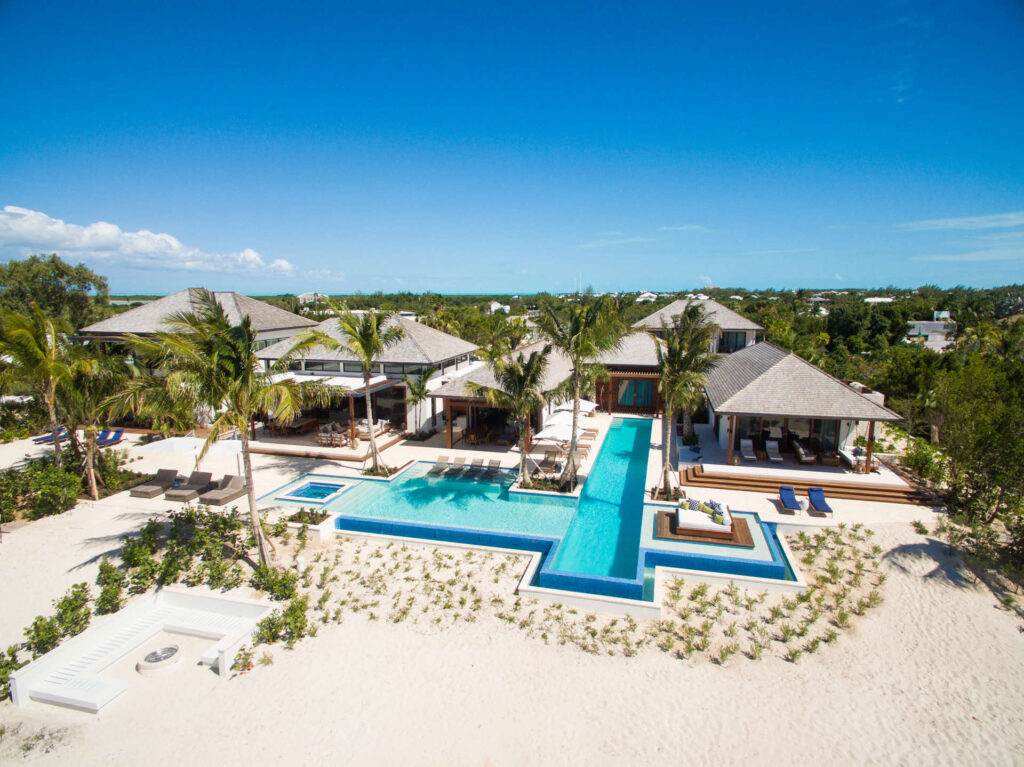 Built to capture incredible ocean views, Hawksbill Estate is a modern paradise, located right on the beach. 
Sleek and stylish, this 8 bedroom home is a trendsetting estate, outfitted with state of the art electronics, designer furniture, and a minimalist approach to decor, focusing on quality over quantity. Designed as a multi-generational Caribbean retreat for its owners and their family it has a contemporary Caribbean design language that is both transitional and responsive to its clients individual personalities.
Hawksbill's main house accommodates a beautiful, stately Great Room and a separate family space that houses games, a TV and access to four en suite bedrooms. As you head upstairs you'll find a stunning master suite with fully pocketing doors and ocean views at every turn. The kitchen and screened terrace open towards the expansive outdoor space. On the opposite side of the pool from the main house stands another master suite for ultimate privacy.
Villa amenities: Fitness room, hot tub, daily housekeeping services, private chef and butler, hot tub, fire pit, private pool, wifi, sound system.  
Nearby activities: Eco tourism, golf, hiking, sailing, scuba diving, swimming, fishing, kayaking, stand up paddle board. 
Book Your Own Stay at Hawksbill Estate.
There's no doubt about it, booking your next luxury vacation in Turks & Caicos means choosing the ultimate escape from the stresses of modern life.