The Exuma experience begins as you fly over the 120-mile-long chain of hundreds of small islands that comprise the Bahamas. The stunningly clear water, along with dozens of cays, islets and white sandy beaches make the island a must for any travel aficionado.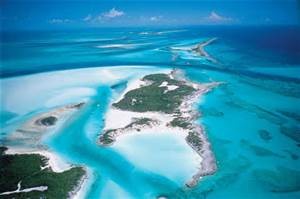 The Grand Isle Resort & Spa is one of the preferred places to stay for our clients. This Caribbean haven has won numerous awards as one of the world's best luxury resorts.  It's no wonder that the latest series of The Bachelor was filmed at this idyllic resort where the scenery sets the tone for some sizzling romance. The immense popularity for this Bahamian holiday destination lies with the ability for our clients to have access to all the amenities of the resort while enjoying the privacy that comes with renting a home within the local.
The Exumas allow for a perfect blend of relaxation and fun activities for all. The beautiful waters allow for great snorkeling where you can embark in underwater adventures that will render you speechless. The pristine waters are a mecca for divers and snorkelers with schools of colorful fish, wrecks, reefs and caves.
The beach is long and broad with velvety sand and shocking blue water, boat tours are readily available to take you out for some deep sea diving or fishing.  One surprising aquatic resident, though, is the humble pig. Pig Island – or, officially, Big Major Cay – is home to a large population of small wild pigs who just love to swim. A sight to see for all.
The Grand Villa Penthouse features unobstructed ocean views from the highest elevation in Emerald Bay. The two bedroom property interior is inspired by the Bahamian aesthetic, boasting solid wood vaulted ceilings, crown molding accents and eight foot alder wood doors throughout the space.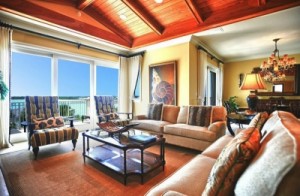 The open living area and dining space feature custom designed furnishings and fully appointed gourmet kitchen with granite counter tops, breakfast bar and solid wood cabinets. The two terraces attached to the living and dining space give way for some spectacular views. The sunsets really seal the deal for all residents as they allow for perfect moments with your loved ones. After a long day exploring surrounding islands and enjoying the villa's amenities, guests of Grand Isle will love relaxing in the privacy of their own luxurious penthouse.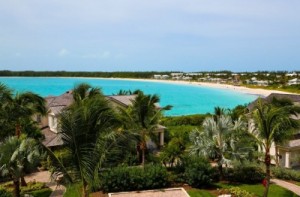 If you're thinking about your next tropical holiday then we urge you to consider The Grand Isle Resort. A Caribbean vacation rental at this local would allow you to have all the perks of being on luxury resort and the seclusion you and your family crave while on holiday.
To learn more about this villa contact a Reservations Manager here.